Description
Digital Signature Certificate (DSC):
According to the Information Technology Act, 2000, digital signatures mean authentication of any electronic record by a subscriber by means of an electronic method or procedure in accordance with the provisions of section 3. Further, the IT Act, 2000 deals with digital signatures under Sections 2, 3, and 15. Earlier  Class-2 of DSC was being used but from 1st JAN 2021, Class-3 DSC is mandatory.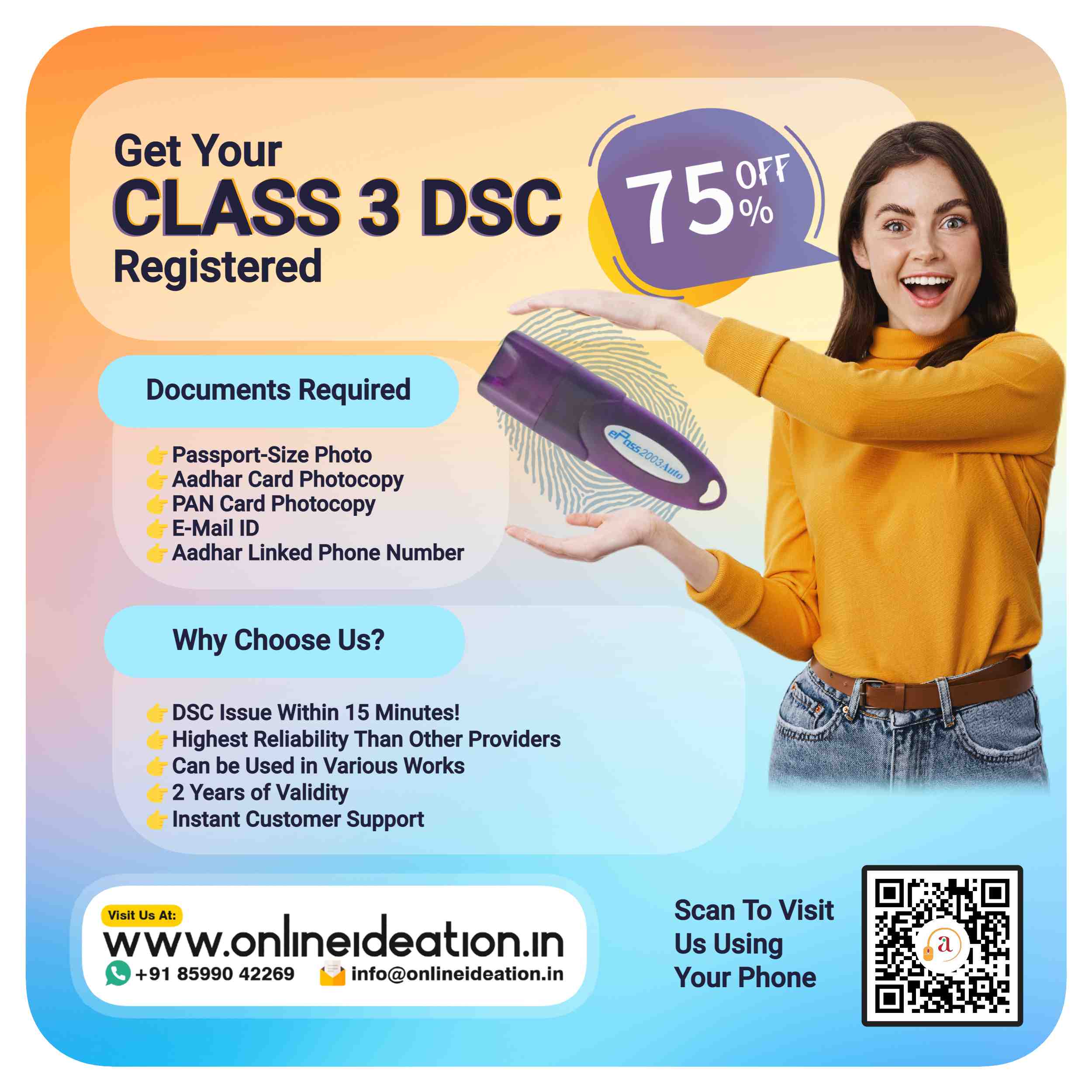 Usage of DSC:
Physical documents are signed manually, similarly, electronic documents, for example e-forms are required to be signed digitally using a Digital Signature Certificate. Following are the major requirements of Digital Signature Certificate (DSC).
For filing of Income tax Report and Audit Report as per Income Tax Act,1961.
ROC filing at MCA portal Forms like MGT 7; AOC 4; ADT 2 etc.
DSC is Mandatory for Company Director KYC.
For filing of GST Returns – monthly, quarterly & annual filings.
DSC is also useful for TDS Returns.
Other Requirements of GST are e-tendering, patent & trademark e-filing, Customs Filing e-bidding, e-Procurement e-auction etc.
DSC Procedure:
The procedure for DSC is simple, we will guide you through the entire process. After submission of all the valid documents, we will apply for DSC. 4 OTPs will be sent to Customer's Email ID & Phone number, upon verifying that, the customer has to go through a Video-KYC verification. Make sure you're in a well lit room without any background noise and have a good internet connection.
Procedure for Video-KYC Verification:
Open the Video-KYC link by clicking on it on your smartphone or PC/Laptop.
When the page is open, you will find instructions followed by a prompt message on the top of a small blank window where your face will appear.
A Record Video Button is at the bottom of the video window. Click on it to start the recording.
A pop-up window will appear on the screen, click on "Allow" to grant necessary permissions for using recording devices.
At the countdown, read the prompt message clearly showing your face and then along with face, show each documents for at least 5 seconds.
The video recording will stop after 40-60 seconds. Please review the video if it's properly visible and then upload it.
For further proceeding, inform us after the video recording.
Once KYC is approved, the Digital Signature Certificate along with crypto-token will be generated and ready to be used within 15 minutes.