HSN Code on GST Invoice Mandatory w.e.f. 1st April, 2021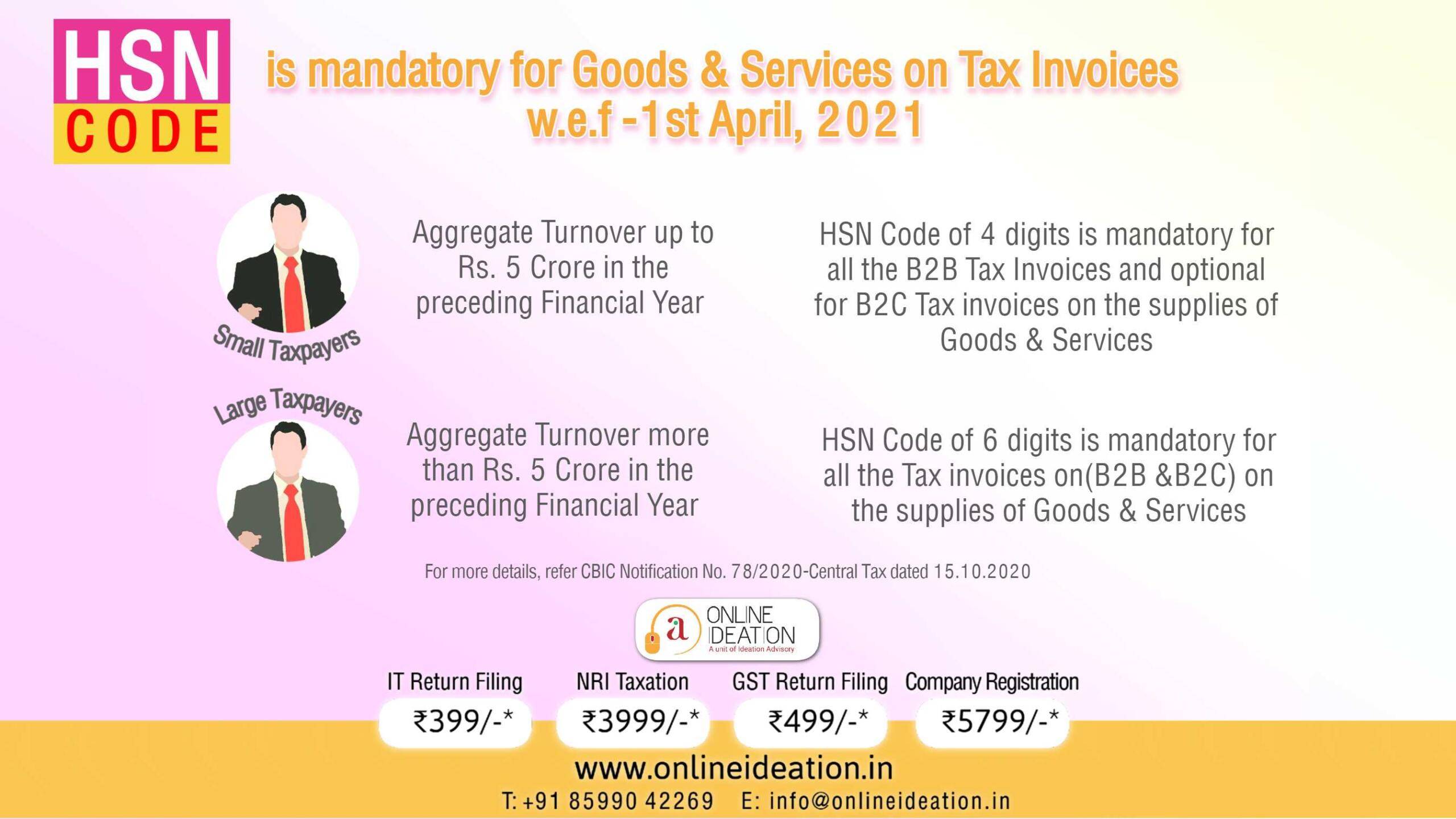 The Goods and Service Tax Network (GSTN) has notified the impending changes in GSTR-1 Table-12 on GST Portal. The government has notified that from 1st April onwards, it will become mandatory to report minimum 4 digit or 6 digits of HSN (Harmonized System of Nomenclature) Code in Table-12 of GSTR-1 and in Tax Invoice.
This change is all set to change the way of businesses operated in India. It is one of the biggest changes in the world of GST in the year of 2021. This new policy has been taken seriously by businesses after the GST Tech Tweet on Thursday (4th March). The change is an extension of the amendment made in Notification 12/2017-Central Tax through Notification No. 78/2020 dated 15/12/2020.
The no. of HSN Code to be reported will be on the basis of Aggregate Turnover on PAN in the preceding fiscal year.
Aggregate Turnover in the preceding Financial Year. Number of Digits of HSN Code
Up to rupees five crores 4 Digits
more than rupees five crores 6 Digits
Under Aggregate Turnover up to Rs.5 Crore Minimum 4 digit reporting of HSN Code is necessary, Mandatory reporting of all B2B supplies & exports.
Under Aggregate Turnover is more than Rs. 5 Crore Minimum 6 digit reporting of HSN Code is necessary and mandatory reporting of all supplies, including exports.
Under 8 Digits of HSN Code as per the Notification no. 90/2020 (dated 1st December 2020) it is mandatory to specify the 49 chemicals based products.
Moreover all the tax invoices should consists of proper HSN Digits, detailed explanation of the products and correct tax rates for better transparency and to escape future litigations. Under section 125 of GST there is a fine for any mistakes related to GSTR-1.


---
You might be interested in:
Critical Mistakes to Look For After GST Registration!
Mandatory Fields a GST Invoice Should Have
How To Change The Registered Mobile Number or Email ID on The GST Portal
How to Change The Authorised Signatory on The GST Portal
How To Revoke GST Registration Cancellation
How to Register for GST India Online
---